Save Dreamland website, April 5th
The Runaway Coaster at the former Rotunda Amusement Park, Folkestone, was demolished today. Built in 1922, it was a side-friction figure eight coaster, of the type that was popular (and relatively common) in the UK before the Second World War. Save Dreamland Campaign Leader, Nick Laister, made the following statement this evening:
"The Save Dreamland Campaign has worked tirelessly over the last few days to save the Runaway Coaster, being the only side friction figure eight coaster left in the UK and one of only two in the world. We believed it to be an important part of amusement park heritage."
Nick continues: "The ride was earmarked for demolition first thing on Monday but we contacted the developers of the former Rotunda Park and told them that we wanted to move the ride off the site and store it. The developers agreed to delay demolition by 48 hours to give us time to confirm in writing that the ride would be removed within six weeks. An engineer visited the site on Tuesday and carefully inspected the ride, which was found to be in remarkably good condition, although some wood replacement would have been necessary. A quote was obtained from an established ride transport company for dismantling the ride and moving it to storage. We were fortunate to secure financial backing for this and our supporter wrote, on our behalf, to the developer confirming that the work would be done within the required period. Despite confirming receipt of the letter, demolition proceeded today regardless with no explanation. This is disappointing as there are no more traditional side friction coasters left in the UK."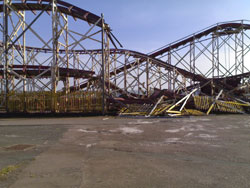 http://www.joylandbooks.com/scenicrailway/news.htm